The NEO-MAPP consortium consists of a cluster of world-leading European research institutes and two of the most NEO experienced European space industries. We benefit from a broad and directly appropriate combination of scientific/technical expertise and experience, and the management competence of major international players in the space field. Most of the consortium members have collaborated under the auspices of ESA on Solar System projects and are involved in the Hera mission investigation team during the Phase B1 study at ESA (August 2018- July 2019), or on other past or current small body space missions. In addition, a few partners in our proposal were partners in the FP7 NEOShield project and/or in the H2020 NEOShield-2 project. We therefore have a considerable amount of directly relevant experience, not only in terms of the scientific and technical subject matter, but also in collaborating with each other on tasks relevant to the nature of this Horizon 2020 Call.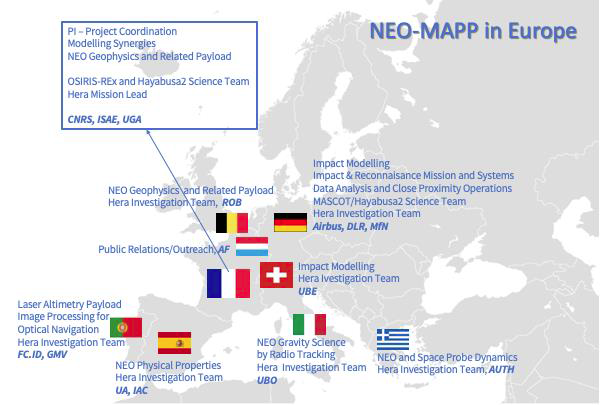 The image below gives an overview of the responsibilities of the consortium members. The science-based work packages are designed to produce modelling results related to the impact process, which is at the heart of the kinetic impactor concept, the coupling between dynamical and physical properties of binary or single NEOs, subject to an impact-induced or an encounter-induced deflection, so to further expand our understanding of all mitigation-related properties of NEOs. 
Partner institutes contributing to the science-based work packages will provide acknowledged experts in the impact process (UBERN, Mfn, CNRS), NEO dynamics (AUTH), and NEO physical properties (UA, IAC, CNRS, ROB), including their interior structure. The resulting information from these activities within the project duration will constitute input for the technical, mission-oriented work packages. The consortium includes partners with extensive experience in the development of relevant space mission systems and technologies (Airbus, DLR, FC.ID, GMVPT, ISAE, ROB, UBO, UGA). The public outreach of all these activities will be supervised by a partner (AF) whose experience and efficiency is demonstrated by the increasing success of Asteroid Day that they have organized every year since it was founded in 2015. 
We recognise that some partners overlap in terms of their research fields and competences While such overlap is natural and beneficial, we will avoid duplication of effort. Each partner has clear tasks and responsibilities. However, in order not to waste valuable know-how, we plan to maximize communication between partners via the project internal website and project meetings to ensure that partners are fully aware of each other's work. 
Here is the how the work plan is broken down across the consortium members