NEO-MAPP personnel again made a significant contribution to Asteroid Day LIVE this year. Asteroid Day is observed annually on 30 June. It is the United Nations sanctioned day of public awareness about the risks and opportunities associated with asteroids. It provides educational resources and outreach materials to a global audience via multiple digital platforms.
This year, its programme was split into four sections: detection and tracking; scientific investigation; planetary defence; and future exploration. NEO-MAPP team members appeared in all four sections.
Detection and Tracking

This year's Asteroid Day LIVE theme was the 25th anniversary of the launch of NASA's NEAR-Shoemaker spacecraft, the world's first dedicated asteroid mission.  Andy Cheng of the NEO-MAPP advisory board was NEAR-Shoemaker's project scientist and was interviewed across all four sections of the programme. You can watch a compendium of all four interviews here.
Scientific Investigation
NEO-MAPP personnel really shone in this section of the programme, explaining how to investigate asteroids and the surprisingly exotic environments they are revealing.
Patrick Michel, NEO-MAPP's Project Coordinator; and Naomi Murdoch, a NEO-MAPP Team Leader and member of the Steering Committee took part in the panel discussion What's Inside an Asteroid?
Julia de Leon, a NEO-MAPP team leader, appeared in two videos: How do we get to know an asteroid? and What are the different types of asteroids?
Patrick Michel and NEO-MAPP advisory board member Brian May explained the importance of stereoscopic imaging in asteroid research.
Makoto Yoshikawa, another NEO-MAPP advisory board member, described the successes of the Hayabusa2 mission that returned the first significant samples of an asteroid to Earth last year in his video JAXA's Hayabusa2 mission update.
Planetary Defence

NASA's DART and ESA's Hera mission formed the backbone of this section of the programme, with NEO-MAPP personnel involved in both missions. As well as his role in NEAR-Shoemaker, Andy Cheng is also co-lead of NASA's DART mission. Fellow NEO-MAPP advisory board member Ian Carnelli is the Hera project manager. Both made significant contributions to the panel Protecting Earth from Asteroids.
Future exploration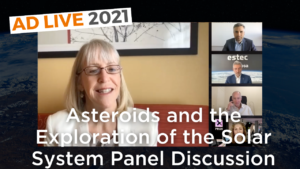 In the final section, Patrick Michel explained the NEO-MAPP organisation, its work and focus on the future. Watch that presentation here.